Enviro-Slat Privacy Fencing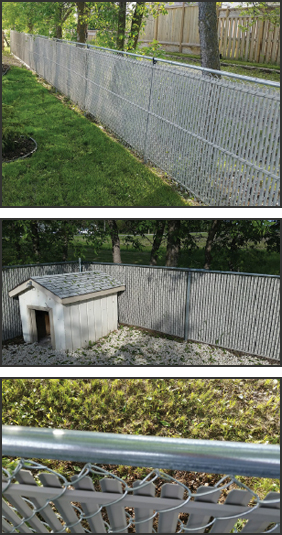 Single Wall Slats & Retainer Strips
Gateway's Enviro-Slat Privacy Fencing is made from 100% recycled PVC. Our slats will transform your chain link fence while providing the privacy you require. Not only are they environmentally friendly due to their recycled content, but they are an economical and attractive way to enhance your fence. Gateway's Enviro-Slat Privacy Fencing is available in 4 colors and multiple heights to suit your preferred style.
Design: Single Wall, Cap-Style shape. Slats rest on a matching Retainer Strip.
Installation: Insert the Retainer Strip through the bottom of the fence. Then simply slide the slats vertically from the top until resting on the Retainer Strip. Gateway's unique design also allows for slats to be inserted horizontally across the vertical slats giving a unique finished look (see top photo).
Standard Heights: 4 ft., 5 ft., 6 ft., 8 ft. - Special heights available upon request.
Slat Length: 3 1/2" shorter than the overall height of your fence.
Wind Load and Privacy Factor: Approximately 75% Load and Coverage
Colors: Beige, Brown, Grey, Black
Materials: Slats are extruded from a recycled blend of Rigid and Flexible PVC. We then add colorants that contain UV inhibitors specifically formulated to reduce the impact of solar exposure while maintaining color integrity and extending the life of the slat.
Durability: Because our slats are made from both Rigid and Flexible PVC, they are less likely to become brittle over long periods of time.
Maintenance: Gateway's Enviro-Slats are very low maintenance. They are easily cleaned with a pressure washer or simple garden hose.
Wind Load Disclaimer: Gateway cannot be held responsible for damages resulting from wind load conditions due to insufficient structural support.
Available Colours

Samples available upon request.